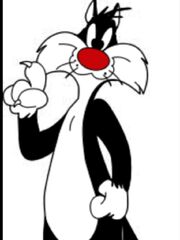 Sylvester is a black and white cat from Looney Tunes. Most shorts he appeared in he was with Tweety the canary and Granny. He also appeared with his son in some shorts. He appeas in the Tiny Toon Adventures episode, Test Stress In the segment, Li'l Sneezer, where he tells Furball to catch a mouse.
Ad blocker interference detected!
Wikia is a free-to-use site that makes money from advertising. We have a modified experience for viewers using ad blockers

Wikia is not accessible if you've made further modifications. Remove the custom ad blocker rule(s) and the page will load as expected.